Palomar Gem, Mineral and Jewelry Show – June 12-13, 2021
A little known history of San Diego County is its mining history. In the gem and mineral world, San Diego is famous for its gem mines that produce tourmaline, garnets, morganite ( a stone named after J.P. Morgan), kunzite (named after George Kunz, mineralogist and buyer for Tiffany and Co.), and other gems. The Palomar Gem and Mineral Club honors that mining history with its 66th annual Gem, Mineral, and Jewelry Show at the prestigious California Center for the Arts Escondido, 340 N. Escondido Blvd, Escondido, CA 92025.  Beautiful mineral specimens, cut gems, gem rough, fossils, and eye catching jewelry made from gems and minerals may be purchased. Demonstrators will be showing their skills to attendees and giving them the opportunity to learn about some of the lapidary arts promoted through our club including faceting, silversmithing, and other arts. There will also be Gem Identification. Find out what gem is in the ring your grandmother gave you.  There will even be a rock treasure dig for kids. Hours are Saturday June 12 from 10am -5pm and Sunday June 13, 10am-4pm.  The PGMC holds its annual Gem Mineral and Jewelry Show at the California Center for the Arts in Escondido. Join us for 2 days of exhibits, dealers, kid's activities, and raffles.
Escondido is a gateway to the Southern California Gem mining districts of Pala and Mesa Grande. Tourmaline there, was first found by local children in the Mesa Grande area. They brought it to the Mesa Grande store and traded it for marbles or candy. The Himalaya mine was founded. In the very early part of the last century, large amounts of tourmaline were found. Much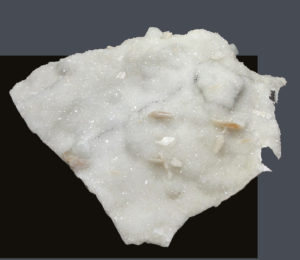 of it was sold to the Dowager Empress of China for carving. More recently, the Pala District and Mesa Grande have continued to produce tourmaline and other pegmatite minerals.
The Palomar Gem and Mineral Club promotes the interest in all minerals that come from mining in our area and around the world. Attendees to our show will see minerals from around the world. We have monthly meetings, often with a speaker educating our members and guest on some aspect of gems and geology. Our show is our major fund raising event for our club to help fund our lapidary shop for our members. At our shop, which is equipped with gem cutting equipment, we offer classes on how to cut gems to bring out their greatest beauty. Once you have cut a gem, you can set that stone in a silver setting that you made in one of our silversmith classes. This year for our two grand raffle prizes we will have a beautiful faceted rutilated quartz pendant made by our members and a large calcite and zeolite crystal specimen!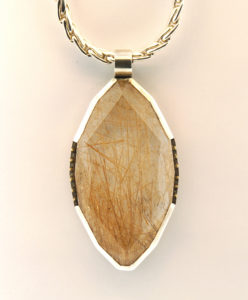 For more information about our club
Vendors wanted!
If you are interested in being a vendor for this year's show, spots are filling up fast!
Contact our Show Chair if you are interested.
More information about the vendor booths can be found here