The Palomar Gem and Mineral Club, a non-profit corporation open to all adults and young people, was organized to promote the study of rocks, minerals, gems, fossils and related subjects, such purpose to be developed through regular meetings with educational programs, field trips for the collection of geological specimens, and classes for teaching lapidary arts. The Palomar Gem and Mineral Club shares its knowledge of the earth sciences by sponsoring Gem and Mineral shows featuring exhibits, displays and demonstrations. The Club was founded March 20, 1954.
The Palomar Gem and Mineral Club operates a fully equipped Lapidary Workshop for the exclusive use of our club members. The shop is well equipped and is supervised by experienced lapidary craftsmen and women. A small fee is collected for each session. Please check our website or newsletter for the latest open workshop days and times. This is also where  we hold our special classes in lapidary arts and jewelry making activities. These include silversmithing, faceting, wire wrapping and many others. Please refer to our website or newsletter for a list of upcoming classes and fees. The workshop is closed when classes are being held.
Big thank you to everyone who attended and helped put on our 65th Annual Palomar Gem and Mineral Club's Gem Mineral & Jewelry Show!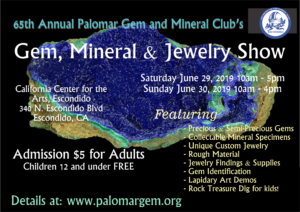 August is our "Dark" month where regular scheduled workshops will not be held.  Instead we offer specialty week long faceting and metalsmithing courses.
Members – Please Join us on Sunday, the 18th of August for our annual potluck in the park!  We will be meeting at Jesmond Dene Park in Escondido at 10:00am.  Please bring a folding chair and a dish to share.  For those that are interested we will also have a rock swap so bring some rocks to trade!
Saturday June 29th and Sunday June 30th |California Center for the Arts  Escondido | 340 N Escondido Blvd | Escondido
Monthly Meetings: Third Wednesday | 7:00pm
Dittus Hall | Redwood Terrace | 710 West 13th Avenue | Escondido