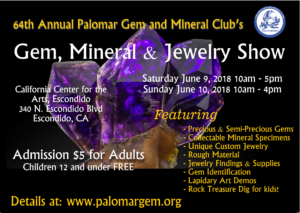 The Palomar Gem and Mineral Club's 64th Annual Gem, Mineral and Jewelry show will be held on June 9 & 10th at the California Center for the Arts in Escondido.
The Palomar Gem and Mineral Club, a non-profit corporation open to all adults and young people, was organized to promote the study of rocks, minerals, gems, fossils and related subjects, such purpose to be developed through regular meetings with educational programs, field trips for the collection of geological specimens, and classes for teaching lapidary arts. The Palomar Gem and Mineral Club shares its knowledge of the earth sciences by sponsoring Gem and Mineral shows featuring exhibits, displays and demonstrations. The Club was founded March 20, 1954.
The Palomar Gem and Mineral Club operates a fully equipped Lapidary Workshop for the exclusive use of our club members. The shop is well equipped and is supervised by experienced lapidary craftsmen and women. A small fee is collected for each session. Please check our website or newsletter for the latest open workshop days and times. This is also where  we hold our special classes in lapidary arts and jewelry making activities. These include silversmithing, faceting, wire wrapping and many others. Please refer to our website or newsletter for a list of upcoming classes and fees. The workshop is closed when classes are being held.
May Meeting
Opals
Gerry Alvarado
What can be more magical and alluring than a glowing opal? Winking colors of the rainbow changing with movement and light. Red, green, yellow, and blue. Body colors of white, black, or even colorless. Sometimes just intricate thin veins making fascinating patterns in the matrix.
Gerry Alvarado, otherwise known as the Gem Guru, owns The Miner's Gems shop in Old Town- a well-known landmark for many, many years. He'll be telling us all about opals, one of his favorite stones, and his experiences with them. He'll bring lots of eye candy to show us and will also have some items for sale.
So wear your opals and come join us for an exciting talk and some great refreshments!
See ya there!
Wednesday, May 16, 2018 | 7:00 pm |
Dittus Hall | Redwood Terrace | 710 West 13th Avenue | Escondido